While up in Portland the other weekend, I happened across an opportunity to attend a screening of the upcoming film Blue Like Jazz. I also got the opportunity to briefly meet Donald Miller, author of the book Blue Like Jazz, and the basis of the main character. He happens to be one of my favourite authors hands down and his books- particularly this one along with A Million Miles in a Thousand Years happen to be two of the books that have had the biggest influence on my life. I have a lot of respect for Miller's writing and creative work, so I will try extra hard to give this film a fair review without giving away too much information. Most of the films I have experience reviewing I've reviewed after their release, so this is new territory for me, which I hope goes over well.
With that introduction, as soon as I heard about the adaptation of Blue Like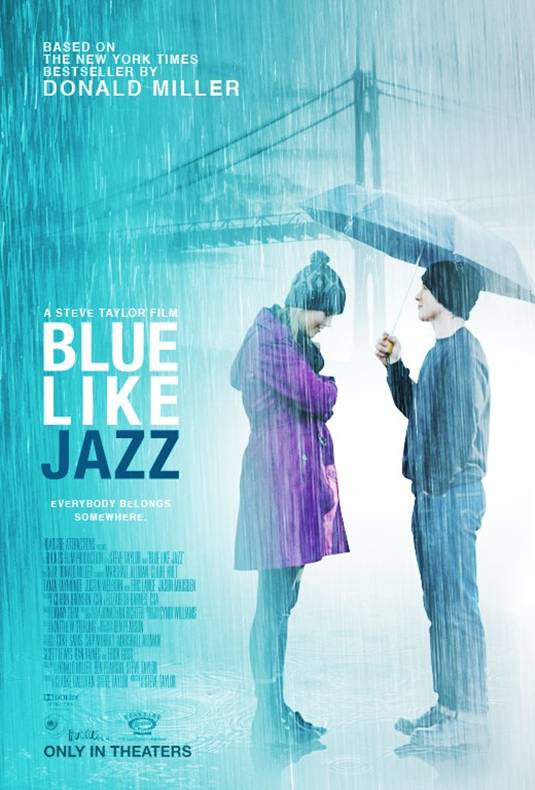 Jazz I became extremely curious about how they could pull that off. Unlike most of my favourite books that get adapted into screenplays, my reaction was more "how can this book even translate into a movie with dramatic narrative?" more so than "man, there's no way they'll be able to give that book justice." The book can be best described by its own subtitle- nonreligious thoughts on faith, and it is a mainly free-form space where Miller combines his deepest thoughts with different experiences from his life that helped shape those thoughts.
The film centered around Miller's college years, which were a significant portion of the book, however in the book he jumps around between childhood, college, and adulthood as he talks about his experience with faith. The film exclusively focuses on his most formative first year away from home and at school and how that leads to his questioning and wrestling with the religion that he grew up with. Those who have read the book will enjoy the subtle, nuanced ways that ideas and thoughts from the book will work themselves into the dialogue of certain scenes. One of the reasons I knew I could trust this narrative was because of the heavy involvement Miller had in the production of the film.
As you might guess, the college setting of the film and the protagonist's youth and circumstances make it very much a coming-of-age story. I had joked that it was like a spiritualized Garden State before watching the film, and after the film I realized that wasn't very far from accurate- and I mean that in the best way possible, Garden State was a great movie. At the beginning of Blue Like Jazz, we meet Don, immersed in the Texan world of Sunday morning Baptist sermons and youth group game nights while working at a communion cup factory. (In case you didn't get it, he's got quite the religious background.) Things change however, when he opts to leave Texas for Reed University in Portland, a post-modern, highly liberalized, and fairly anti-religious campus that becomes a whole new world for him. It doesn't take long before he realizes how happy he is to turn from Christianity after receiving a broader world perspective and becoming enlightened.
He quickly abandons his old religious practices and explores his new environment. He joins different causes around campus and meets a diverse amount of peers. After a while, however, situations force him to stop running from the tension between faith, religion, and a world that sometimes seems to be better off without those things.
It was pretty fun watching the film in Portland, especially during a passing shot of the Oregon Convention Center where I happened to be sitting right at the moment. But beyond that, it was a narrative I could personally very much relate to, and one of the comments while reading some of his college stories in his book were that I felt like his story and my story share quite a few similarities. The film presents scenes and stories in such a way that really takes you through the evolution of his thought process, even without explicitly saying so.
The biggest strength of this film is its honesty. I could say the same about the book. The film is often times raw but its characters are real and they are fairly reflective of many different personalities and perspectives that we share our lives with. The emotions and the predicaments of Donald as well as a number of the other characters are very real, and the movie doesn't hold anything back for the sake of having a clean or sterilized picture.
The film is also very well written- what you might expect from a well respected author actually being heavily included in the production of an adaptation of his own work. It was a labour of love, and that was quite evident. The dialogue had some very memorable moments while remaining mostly authentic. There were also some really clever and very subtle jokes that different people may or may not get going into the film.
There are a few things that this film is not. It isn't a Christian film, and given how bad films released under that marketing label typically turn out, that might not be such a bad thing. Rather, it's a film about a Christian, as Miller describes. It doesn't sacrifice honesty for cleanliness, and presents a true, honest, and even confrontational look of what it's like to have faith in the tension between traditional religious thought and modern thought. It's a refreshing break from the typically one-dimensional portrayal spirituality gets in most films. It isn't the gospel, except for the little way in which I believe every story bears some reflection of the gospel to a degree. It should definitely not be viewed as proselytizing propaganda. Just a story loaded with messages for you to take as you so choose.
Overall it's a really good film, a thought provoker and a great conversation starter. I'd imagine most trips to the theatre for this one should be followed by a trip to the coffeehouse to talk it up. If anything, you should definitely read the book, too, since the film is not a substitute at all- it could've very well just been released under a different title and not considered an adaptation, but that's the way things went. Whether you're a Christian, unsure, nonreligious, or whatever else, there's stuff in this film that will resonate with you and there's stuff that will challenge you.
Hopefully you'll like it. I did.
Also, the film comes out 13 April in select cities. The crew wanted to push for a big opening weekend, so if you've been planning to see it, you're going to want to see it on the 13th. It's working off a shoestring budget and so the way for it to be picked up nationwide is with a big opening.
Here's the trailer: